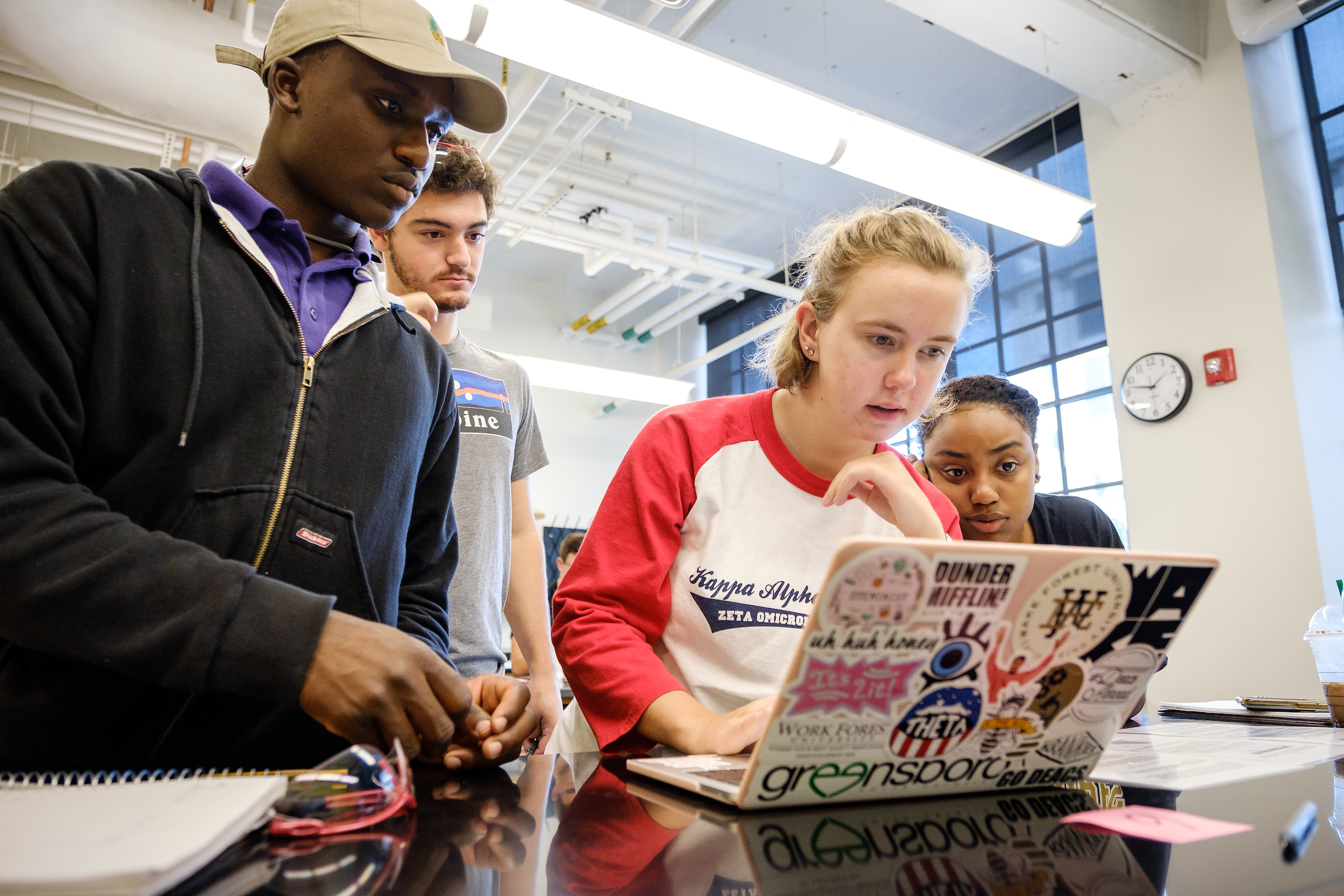 Real Solutions for the Real World
Overview
Grounded in a culture and curriculum that values the liberal arts and positive societal change, Wake Engineering students are uniquely prepared to tackle the real-world, multi-disciplinary engineering problems presented in their Capstone Design Projects.
Project teams of 3-5 seniors design, build, and test innovative solutions that meet real-world client, user, and stakeholder needs, with a focus on how their work positively impacts the human experience in the spirit of Wake Forest's motto, Pro Humanitate. Yearlong Capstone Design Projects require students to work under the guidance of engineering faculty advisors and industry mentors – to think entrepreneurially, creatively, critically and ethically to develop functional prototypes not yet imagined. In their iterative quest to fill an unmet societal need, students dedicate more than 1,600 person-hours to each project, gaining invaluable technical engineering experience in team-based designing, project management, leadership development and professional communication.
The Design Process
At WFU Engineering, we implement an iterative 4-stage process that guides the student teams through a thorough and systematic undertaking. Throughout this process, we hope to demonstrate to students how they can apply the breadth of knowledge they learned throughout their curriculum to the real-world problems they are facing in capstone. A summary of the process is provided below:
Discovery Design – background information, project scoping, solution benchmarking, generating design requirements
Conceptual Design – generating and selecting viable concepts to solve the problem
Embodiment Design – translating rough concepts into preliminary prototypes and models
Detailed Design – testing, refinement, and improvement of prototypes
In between each of these stages, we students participate in technical design reviews where they interact with subject area experts who can provide critical input on their progress and plans.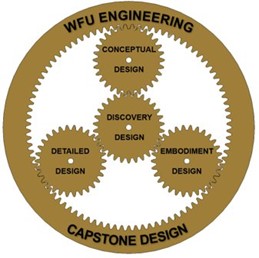 Junior Year
January
Students enroll in EGR 313 (1 credit – Capstone Design I)
January-July
Students, faculty, industry partners, community members, etc. can submit project ideas
Senior Year
August
Students enroll in EGR 314 Capstone Design II (4 credits).
Mentor/advisor orientation and team kickoff.

September-December
Project work, weekly meetings with faculty coaches.
January
Students enroll in EGR 315 Capstone Design III (4 credits).
January-April
Project work, weekly meetings with faculty coaches.
April/May
End-of-year design showcase.
Project Proposals
Wake Engineering students understand that tackling real-world problems requires diverse perspectives, including their own. Our Capstone Design Projects embrace this mindset by soliciting project ideas from many sources. Industry, government and non-profit sponsors may submit projects to meet identified needs, while students, faculty and staff may propose their own entrepreneurial ideas.
If you are interested in proposing a project or getting involved with the capstone experience, please visit the following webpages: